I am gearing up for the Holidays and try to list a few ready to ship items in my Etsy shops. This one-of-a-kind rose cut green sapphire ring finally got photographed and listed in my Nodeform Etsy Shop.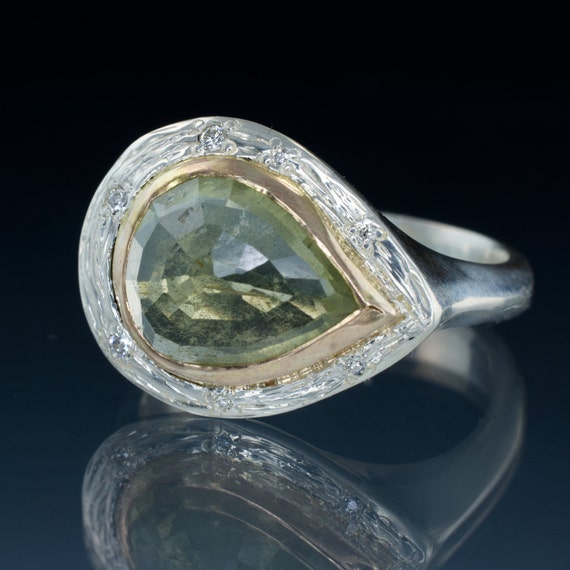 This one-of-a-kind ring has a beautiful large green rose cut sapphire set in 14k gold bezel with a wood grain textured rim and diamond accents. The dynamic setting displays the beauty of this rose cut pear shaped genuine sapphire gemstone. The 14kt gold bezel complements the moss green color of the faceted sapphire. Recycled Harmony diamonds are bead set into a wood grain textured border around the center stone. 
The ring is made out of high polished Sterling Silver. This is a one-of-a-kind ring, ready to ship in size 7.5 and can be resized between size 6 to 8.  Height above the finger is 6 mm. The ring shank is about 3.8mm at the bottom and tapers in a organic movement to the setting.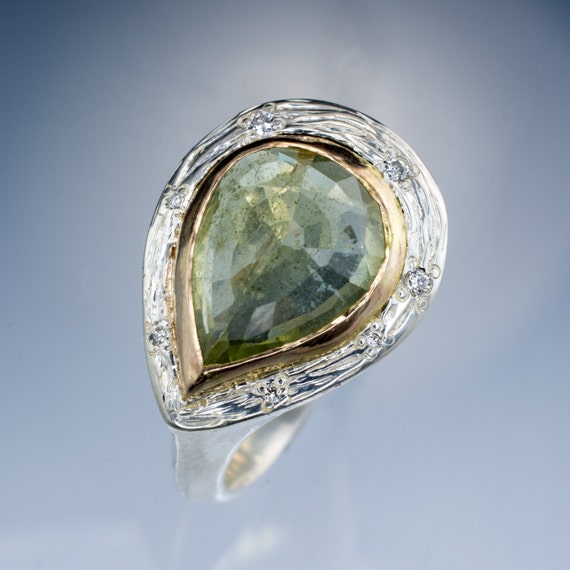 The rose cut sapphire stone is about 4.18ct, and measures about 9.2 x 12mm. It's un-heated and mined in Tanzania. The natural inclusions in this gem give it a lot of life and make it unique.
The diamond accents are hand set into the textured top. The seven diamonds range in size between 0.8mm/.0025ct to 1.5mm/.015 CT. They are conflict free and recycled Harmony diamonds. Recycled diamonds are the ultimate eco-friendly diamonds, as they do not cause destruction to our Earth.